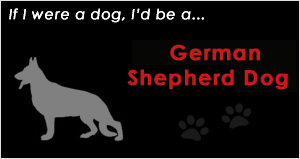 discover your dog breed @ quiz meme
Well, it was quite appropriate when I took the above quiz to see what breed of dog I would be IF I were a dog and it was determined I was a German Shepherd. The first dog I had was one I shared with my husband-to-be, Mr. Tennis while we were still in college.
Mr. T was earning $$$ by working as an on-campus janitor at the University of Florida and would often be roaming various buildings at night performing his duties. One night he called me and told me to meet him at one of the buildings. He took me to a stairwell where someone had abandoned a box of puppies, ten in total. It was a Friday night and those puppies would not have been discovered until Monday if not for the janitorial staff. They had put a call into Animal Control and Mr. T said, "quick, let's pick one"! We stood them up one by one and they were trembling and scared except for one brave boy who trotted right over to us. He was the one!
We didn't even know what kind of dogs the puppies were. They were pretty small and fuzzy. Ziggy was named that night for the cartoon character on the cards Mr. Tennis and I used to exchange. Mr. T and Ziggy were inseperable from then on.
Pretty soon it was obvious what type of dog Ziggy was going to be:
Ziggy, about 3 months old, 1979
Me and Ziggy behind Mr. T's apartment in Gainesville. Ziggy about 5 months. 1979
And we should have guessed because he was a quick learner during the obedience classes he took with his master. He went everywhere with us and quickly learned key words such as "law center" (where he would go chase and retrieve frisbees):
UF Law Center, 1980
"Boat" (at Gramps' lakehouse, where you were hard pressed to beat Ziggy into the boat),
Trout Lake, Gramps' lakehouse, Gramps' boat, 1983
Keeping Grandma Hughes safe at Gramps' lakehouse, 1985
of course "walk" which we would spell until he figured out that and we resorted to calling it a "W". And yes, he figured that out too.
Ziggy saw us through our college days and trips to the beach, a local lake, or helping out with a pre-exam munchie attack:
Crescent Beach, FL 1980
Lake Noonan, Gainesville FL, 1980
Studying for last exams before graduation, March 1981
Zig was there to help with pregnancy advice when I was expecting The Writer in 1984:
Port St. Joe in FL panhandle. Hot, hot, Labor Day weekend. 6 months pregnant.
And a welcoming presence after The Writer made his appearance:
Backyard of our first house two weeks after The Writer was born. January 1985.
He hosted two cats in our home. The first, Cheetah, was his buddy.
The unlikely buddies, Cheetah and Ziggy, Briercliff house 1982.
Ziggy passed away at the age of 12 and it left a huge hole in our family. Even Cheetah mourned his loss and would go looking for him. One night we were watching a movie that had a scene with a German Shepherd in it. When the dog barked, Cheetah came running into the room and put her paws up on the screen trying to reach her old friend.
What kind of dog are you? Click on the link at the top right on my blog and take the test. Let me know how it turns out please! I am linking to Angela's blog for
Tuesday's Show and Tail
.